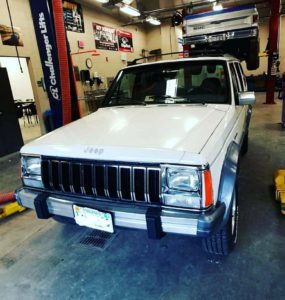 Recent Updates
Our 1st car processed through our partnership with Louisa County Public Schools and the Louia CTE Program. We were able to give this car to a mother in need.
CBS News Story
http://www.newsplex.com/content/news/Louisa-auto-class-donates-car-to-single-mother-476425603.html
The Central Virginian
Monica's van broke down five months ago and repairs were estimated to cost upwards of $5,000, more than the single mother of a special needs child could afford.
The Fluvanna woman's eight-year-old son has multiple medical conditions, some life-threatening. He sees 11 different specialists and attends treatment, therapy and other appointments on a weekly basis in Charlottesville and Maryland.
"It's essential that we have a means of transportation to get to and from," White said. "Not being able to have a vehicle was pretty devastating."
But on Friday, March 9, thanks to the efforts of students in Louisa County High School's second period automobile technology class, she was handed the keys to a refurbished 1996 Jeep Cherokee.
White had reached out to Giving Words, a nonprofit organization that helps single young mothers get back on their feet. Ginny Brown, who co-founded the organization with her husband, Eddie, works at the high school and began culling together resources to help.
A car had been donated by a member of Mechanicsville Baptist Church's congregation, but needed some repairs. It was agreed that the students in Robert Goodwin's automotive class at the high school could help.
"All of the pieces were just laying there for us to put together," Ginny Brown said.
Goodwin said the students completely revamped the vehicle, got it running and ready for the road. The sport utility vehicle gives White plenty of room for her son's equipment and other items they need to take with them when traveling.
How You Can Help
VOLUNTEER your talents that would bless young mothers, such as cooking, home organization, home and car maintenance, and budgeting
DONATE
 funds to help our ministry and you could be providing:
1. $25.00 - Baby Wipes                              2. $50.00 - Baby Diapers
3. $75.00 - Groceries                                   4. $100.00 - Car Repair Assistance Program
5. $150.00 - Stroller, Funiture, Etc.            6. $200.00 - Specific needs tailored to mother and child
We are currently working on a storage space to accept donated items. At this time we are unable to accept items such as strollers, etc.
Car Donations Welcome
Giving Words is a 501c3 and donations are tax deductable.